With restrictions lifting and many borders starting to open up again, I bet we're all itching to travel and see the world again. We've all heard about hostels and how cheap they are. You've probably seen the movie Hostel and avoided it like a plague. You probably have friends that stayed in a hostel for a few nights.
Regardless, hostels provide travellers affordable accommodation for one night or their entire duration of the vacation.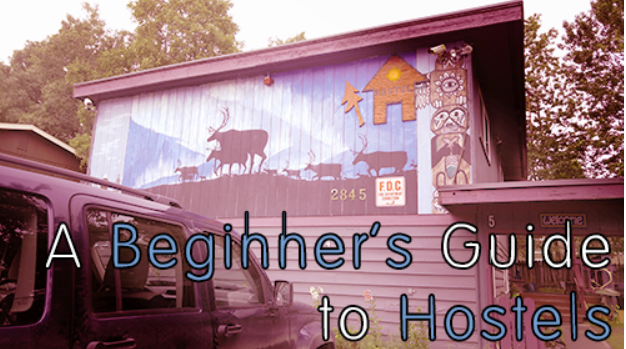 For many, hostels are not the first choice of accommodation, mainly because they're not familiar with or hold untrue beliefs about hostels. When I first considered staying at a hostel, I was a little apprehensive about sharing rooms with a bunch of strangers, especially in washrooms. I grew up staying in nice hotels whenever I went on vacations, so "downgrading" to hostels was extremely different. But, the price difference was substantial so I stepped out of my comfort zone and tried a hostel… let me just say, I probably won't be booking any nice hotels for ordinary vacations (honeymoons and all-inclusive vacations are a different story!).
Today, I'm sharing with you a guide to stepping into the world of hostels and how beneficial they are to travelling! Before staying at hostels, I worked at a hostel as well and know the "back end" of these places.
To begin,
Clear your mind of any assumptions you have about hostels. Just because they're cheap, doesn't mean they're bad! Many people choose hostels because they're affordable and safe. Many travellers from the age of 20 to even 50 stays in hostels! Get rid of any negative stigma you have with hostels because they're most likely false*.
*Everything differs from hostel to hostel, but like any good traveller, check the reviews!
They're not filled with druggies, drunks, party animals and thieves. People staying in the hostels are probably some of the most culturalized individuals you'll meet. Many travellers have backpacked throughout countries, and some are highly independent individuals. Talking to these travellers will most likely inspire you. Hostel guests are educated, well mannered and fun individuals! They're open-minded and extremely friendly.
It's safe and clean. And not at all weird sleeping with other people. Hostels operate like any other hotel. They employ housekeepers and clean out the facilities. However, because you're sharing washrooms (sometimes) with others, it's most likely the fella down the hall that made a mess. The hostel staff tries to keep it as clean as possible, but for the price you're paying, they're not the typical around the clock housekeeping staff. Most locations of the hostel are situated in downtown areas, and nearly all hostels are equipped with storage lockers for valuables. However, I've left my phone and electronics in plain view and none of my roommates stole them. And no, contrary to the popular belief, it's not uncomfortable sleeping with other people in the room. It's like having a sleepover with some friends!
They're cheap, so don't expect much. You're not paying $500/night so don't expect everything to be a 5-start hotel. Some places will have you make your bed (eg. put on the bedding yourself), and some are already made. Some hostels will charge you for towels and some will rent them for free. Some hostels provide guides and city maps, some don't. Each hostel differs but in most cases, hostels are NOT hotels. They won't cater to you like a princess. The staff will be there to check you in and out and answer any questions or concerns but don't expect them to carry your luggage to your room or hand you a toothbrush at 1 am.
Keep an open and adventurous mind. Unlike hotels, guests at hostels are welcoming and fun! These people are the type of people you can grab a beer with at the local pub down the street. These are the people that you will add to your Facebook account and the next time you travel to London, they'll hook you up. Hostels are a fun place to meet new people and create friendships. Keep an open mind and don't brush anyone that greets you! I'm not saying you have to be an extremely outgoing person to stay in a hostel, but don't be alarmed when a group asks you to join them on their night out.
Hostels are fun! Unlike hotels where they have such a formal lobby, hostels are homes to some of the coolest common areas ever! It's the place where guests come downstairs to relax and have fun and meet other guests. Most common areas are sort of like a living room or university student lounges – TVs, board games, couches, books, etc. At one hostel I stayed at, they even have a "theatre" with movies playing until 10 PM.
Hostels are family-friendly. Believe it or not, hostels are not just reserved for the young 20-something years old for a weekend getaway. Hostels can accommodate families as well!
Tips and Tricks:
+ Bring flip flops (and maybe a bikini). Flip flops to keep your feet clean throughout the hostel and bikinis if your hostel doesn't offer private showers (aka community showers).
+ Book and read reviews with HostelWorld, the biggest hostel booking website.
+ Remember, choose a location with a good location, cleanliness and security rating.
+ Many hostels offer free breakfast. Take that advantage to save some money!
+ Also, many offers discounted tourists stuff. Ask the staff if they have any coupons.
+ Some hostels will charge for necessities such as towels, toothbrushes, etc. Pack your own if you want to save a few dollars. Alternatively, some hostels require you to pay a deposit for their towel and then refund the deposit upon check out – ask if they do that.
+ Hostels are not meant for their guests to stay in their rooms for the night. Don't forget to immerse yourself into the "hostel culture"!
+ Hostels offer private rooms with en suites, usually for a few dollars more. If you need it, opt for a private room instead of sharing.
+ Hostels have great kitchens. Feel free to buddy up with someone to cook a meal and save some money.
+ Hostels are a great place to solo travellers. You can meet so many people travelling alone that wouldn't mind buddying up for adventures! One of my friends, Jenny, travelled to Hawaii alone and 1.5 weeks later, she found herself with a lasting travel buddy. The two of them ended up doing everything together and built a great friendship, all thanks to the hostel they were staying at!
Hostels have an iffy stigma to them, but I honestly recommend everyone to try it at least once in their life. Step out of your comfort zone and throw yourself into the hostel culture! I think you might enjoy it!
Sure, hostels are not meant for honeymoons or such, but if you're having a weekend getaway or a short vacation, opt for a hostel. Especially if you're travelling alone! If you think about it – if you're spending most of your vacations exploring the city, and returning to your bed in the evening for 8 hours of sleep, why pay $500/night? You're already asleep, it's not like you can fully indulge in your hotel room. For me, it makes more sense to pay $30/night for a bed, a fun culture and spend my money elsewhere.