For my 30th birthday, Dan treated me to a session of feet reflexology at Big Feet (Kingsway location) after I went on and on about how much I wanted to try a session. I've had short foot massages in the past and always found them to be relaxing and I knew of an acquaintance who swears by Big Feet massages so you can say I was very much intrigued with this franchise.
What exactly is reflexology?
According to Big Feet, 
Reflexology is a therapy in which pressure is applied to reflex points on the hands, feet, and ears.

It is based on the principle that these reflex points are related to the internal organs and glands, and are laid out in the same arrangement as that in the physical body in the form of a "map" or microcosm.

Pressure or palpation on a reflex point can therefore affect these structures.

Vancouver Foot Massage treatment helps stimulate the normal function of the organ involved (for instance, secretion of a hormone or digestive enzyme), and thus aids self-healing, bringing about physical and mental well-being.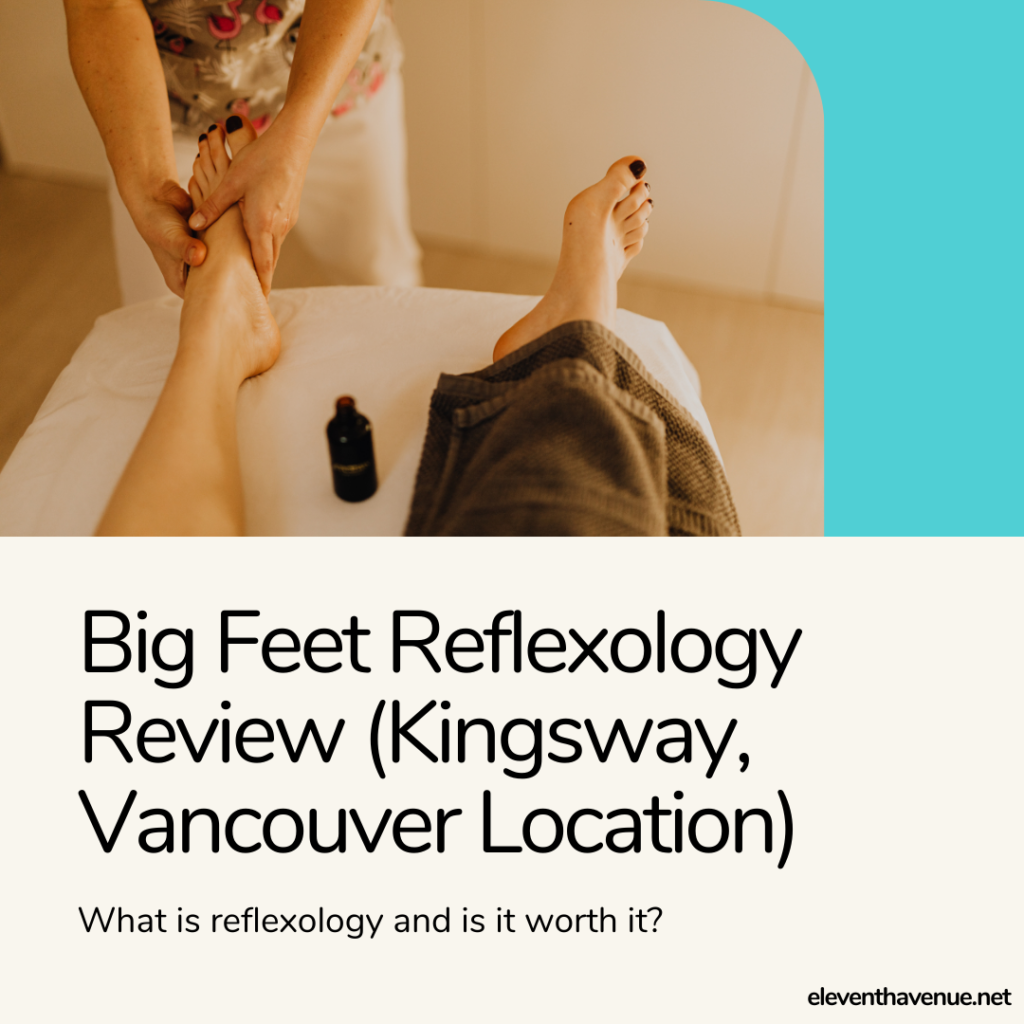 When we arrived, we were greeted by a male colleague on the phone who rushed us in and wanted to confirm what services we wanted. It was clear that he wanted to get back to his phone conversation. I wanted the 50 minutes reflexology but Dan originally wanted the 20 minutes fire cupping session. Unfortunately, we were told that only the store manager is qualified to do the fire cupping session and she wasn't in today so Dan opted for the feet massage as well. 
At the time of writing this, our foot massage costs $52 for 50 minutes.
When we sat down on the giant plushie-looking armchairs, two women quickly came in with a hot steamy bucket of water to soak our feet. My masseuse was kind enough to verify the water temperature and adjusted it to a temperature I was comfortable with since it was originally too hot. We soaked our feet for about 5-10 minutes on our own before the two masseuses returned to start their work.
As I was glancing around the vicinity, I spotted a cockroach on the ceiling. I had put down my bubble tea on the ledge so I was growing anxious that the cockroach would climb down the window but luckily, it climbed up and disappeared through a crack.
Since they spoke very limited English, and Dan and I don't speak Mandarin, we kept to ourselves, while they continued their conversation. Occasionally, they'll look at us and confirm if the pressure is good or not. Sadly, I'm unable to confirm if this is true or not, but I felt Dan's masseuse was constantly mocking him by the way she would smirk at him or look like she was holding back her laughter, and then whisper things to her colleague.
Since reflexology is meant to be a health and wellness treatment, none of the masseuses asked us if there were any ailments or specific areas we were trying to hit. For me, it started quite rough and I had to ask my masseuse to decrease the pressure twice. Dan's pressure was good for him. 
As she worked her way around my legs and started to focus on my feet, it wasn't as relaxing as I thought it would be. Although the pressure was firm throughout the bottom of my feet, it got very sensitive around my toes when she would essentially pinch them, or in-between my toes when she would use her knuckles and essentially massage directly on my bones which is a big no-no.
At one point, a third colleague sat down behind them and joined in on their conversation. At some points, it looks like the third colleague was there to shadow, and at other points, it looks as if she joined to gossip and chit-chat.
After massaging both feet, she would return to the legs and calves. Again, the pressure was amazing on the calves, and the fleshy part of the legs, but she resorted back to using her knuckles against the bony part of my legs. If it had gone longer than a minute, I would've spoken up but the discomfort was manageable. To end the entire reflexology session, the masseuse cleans off the baby oil and lotion and then slaps your legs and feet gently.
When we went to pay (luckily they accept debit and credit cards as many Chinese places tend to operate on a cash basis only in Vancouver), it was slightly awkward when one of our masseuses leaned over the counter, eagle-eyed us, and said "Tips?" when it prompted us to tip.
In all honesty, I found this experience to be a sham. I would not go back to any Big Feet franchise anymore. I was so interested in trying it out and now that I've experienced reflexology, I prefer going to my RMT sessions or even a spa treatment.
They never asked what we wanted out of this experience (healthwise) and I'm not quite sure if the masseuses are even trained professionals or if they were just hired to massage. The promotional material by Big Feet gives the impression that it's centered around health and well-being. The language barrier was expected but if anyone had health concerns or is very sensitive to pressures, they may find it difficult to communicate with them which leads me to not want to try out any of their other services.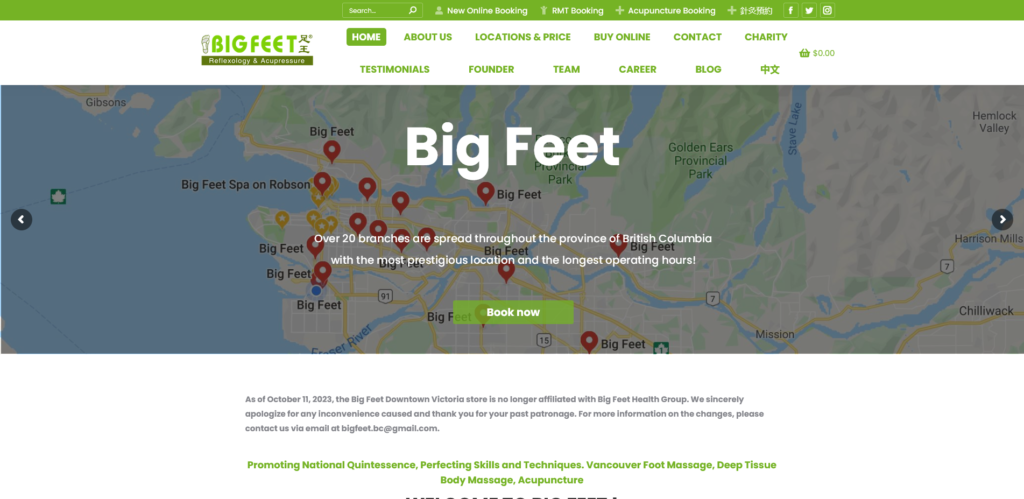 We left with our feet feeling relaxed and no longer tight, but overall, the experience was very mediocre. I experienced tenderness around the bony parts of my legs and Dan experienced some bruising the next day.
Rating:
Service (Reflexology): 3/5.
Customer Service: 1/5.
Atmosphere: 2/5.
Price: 3/5.