Do you cringe when people mention bikini waxes? The thought of all that pain as the esthetician rips the hair out of one of your most sensitive areas?
That was me several years ago… hell, that was me up until a few months ago! I thought that any type of bikini waxing would hurt beyond belief… I remember one of my professors telling me she tried it once and never again because the pain she felt was as bad as giving birth as she described it. 
Early this year, I thought – why not try it? I thought, if I could survive getting tattooed, maybe a wax isn't too bad. I mean, it beats trimming it every few days so I guess you can say my laziness got the best of me.
The next thing I knew, I was on Yelp looking at all the highly rated waxing salons nearby and decided to book my first one with Ann-Marie at Frilly Lilly.
Painless is one of my favourite words, and everyone who went to Frilly Lilly basically called their waxing experience painless according to the Yelp reviews.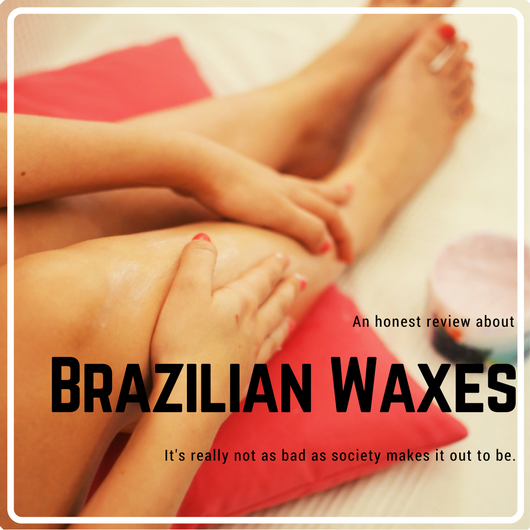 However painful you thought waxing was – it's actually only half as bad.
Yes, it's terrible in some spots (primarily the landing strip area), but it's true that the more you go, the quicker and painless it'll get. At the time of writing this, I've gotten 8 more Brazilian waxes and trust me, it does get easier with every session!
If I had to give it a rating, it'll be a 3 or 4 out of 10 on the pain scale. When she put the first strip of wax on and took it off shortly, it didn't hurt a bit. I honestly had to confirm with her if Ann-Marie had started already or not.
Of course, as she worked her way in, it got a bit more sensitive and a bit more painful, especially the patch of hair above your lady bit and closer to the lips. But it's not as bad as how society made it. Comparing it to giving birth? I mean, I haven't given birth yet but I wouldn't go as far as comparing it to childbirth. Is it one of the most painful experiences you'll ever experience? No. I cried when I got my ears pierced! That was the most painful memory I've had thus far.
I believe the stigma of painful waxing stems from those who used soft wax – basically, the wax that needs to be taken off with a strip of cloth, or poor waxing techniques. Hard wax is when the wax hardens up shortly after placing it on your skin. I was told the hard wax hurts less because it's actually tugging at the hairs rather than on your skin. It stung more when she waxed the peach fuzz on my inner thighs and my happy trail.
Oddly enough, the butt? Painless. Virtually painless. I promise.
The first time, it took about 30-35 minutes because she took her time explaining the procedures and giving me post-wax tips. My regular 6 weeks-out sessions generally take about 15-20 minutes now, and of course, getting faster and faster each time.
If you're like me, scared of what society has been saying about bikinis and Brazilian waxes – ignore them. It honestly wasn't as bad as everyone makes it out to be, and you'll be pleasantly surprised at how bearable the entire procedure was!
If you're really considering booking an appointment, here are some tips that I found helpful during my first few times:
Do your research

. I spent a lot of time on Yelp glancing at reviews before I felt comfortable booking an appointment with Frilly Lilly. It seems silly to read reviews about a salon, but given that you're stripping half naked and letting someone see, view and cause you physical pain… I'll like to choose a place that's highly raved about.

Take two painkillers 30-60 minutes before your appointment

. They help manage my pain a bit and calmed me down… I  guess I viewed painkillers as another layer of protection from the actual pain – if that makes sense. I eventually dropped down to one painkiller and eventually no painkillers for subsequent visits.

Take a hot shower before you go.

I like booking my wax appointments on the weekends so I can freshen up in the shower before heading out. Not only are you cleaning yourself for the esthetician, but the shower will open up your pores for easy hair removal. 

Choose hard wax salons

. Hard wax is the key to a painless bikini/Brazilian wax!

Start small.

If you're nervous, don't feel the need to get a Brazilian right away. There are different styles for that area and you can work your way to being completely bare.

It's okay to fork out a few $$$. Frilly Lilly was expensive… after tips, my waxing came out to be about ~$70. I decided to continue going to Filly Lilly for a few more sessions despite the cost before switching to a cheaper salon. I found the comfort of Filly Lilly to help me get used to the waxing experience. Note – if prices are too good to be true, do your research! Nothing hurts more than getting a wax from an unhygienic or untrained esthetician!
Wear a lightweight t-shirt or dry-fit.

You're going to sweat because of the discomfort you'll be experiencing. So wear something that won't show your sweat stains when you leave the salon.

Do it for yourself

. Groom for yourself – not because some man told you to.
If you're a local, check out Frilly Lilly at 1076 Hamilton Street in Yaletown!
*This is not a sponsored review nor am I affiliated with Frilly Lilly in any way. The experience and opinions presented are my own.