I'm a huge fan of true crime. Not sure how or where it started, but I loooove a good true crime book and podcasts. Am I the only one that enjoys cleaning the kitchen while learning about how Bob murdered a family of 6?
There are so many seasoned and new true crime podcasts that sometimes, it's very difficult to know where to start. In the spirit of Halloween and spoOoky~~~~ season, I'd love to share my reviews on some of the top true crime podcasts and which are my top five!
*Disclaimer – when I review these podcasts, I always start from the first episode. I truly believe if the first episode can capture you in, then the rest of the podcast will be good. That being said, I acknowledge that some podcasts may have drastically improved since their first episodes, especially if the podcast has been around for a few years. I am in no way affiliated with the podcasts mentioned below nor was I compensated for this review. These reviews are based on my own experiences.
---
#1 – Casefile True Crime
This was the first true-crime podcast I ever listened to and I'm beyond grateful that I found it. The host is an anonymous Australian so we never know his name. Casefile primarily covers Australian crimes, but there are a handful of episodes that focuses on international crimes. Regardless of where the crime is located, Casefile episodes are very well structured, beginning the audience a full closure by the end of the episode. Casefile shares only facts – there's no chit chat or speculations so I feel there is no bias. Communication is very clear and concise, and easy to understand. No fillers such as "ums, ah, etc". Casefile rarely shares any audio clips from media outlets related to the case which I enjoy very much. Episodes range from 30 minutes to 90 minutes with a few cases broken down into 2 or 3 parts.
Audio quality wasn't as professional early in the series but it has improved after a few episodes. I would recommend Casefile for those who are purely interested in the crimes themselves, and not into chit-chats between two friends.
#2 – Canadian True Crime 
Hosted by Kristi Lee, I was drawn into this because it only focuses on Canadian true crime. As a fellow Canadian, this piqued my interest. At the time of this review, Canadian True Crime has less than 100 episodes. Early on, I did enjoy this podcast. It's very similar to Casefile where Kristi walks the audience from start to finish, sharing only facts, no speculations and audio clips from media outlets when possible. Communication was very clear, and no fillers. There's no chit-chat (can you see I'm not a fan of chatty podcasts?) and episodes range from 45 minutes to 1 hour, and some cases were multi-parts. One of my favourite things about Kristi is that she always takes the time to explain the Canadian Criminal Code to listeners.
However, a quarter way through the series, I took a long break from Canadian True Crime. I adore Kristi's podcast, but I couldn't stand the pace of the episodes anymore. Even at 1.2x speed, I found it very longwinded, especially when cases were 3 or 4 parts. Eventually, I took a stab at CTC again and mustered through the handful of episodes that dragged on. Towards the midway mark, I think Kristi changed the podcast a bit because episodes were no longer longwinded nor did they feel dragged on. It easily became my 2nd favourite podcast once I noticed the little changes. Kristi puts a lot of effort and dedication into her passion project, and I value her case updates and taking feedback into consideration.
#3 – True Crime Chronicles from VAULT Studios
A short and simple true-crime podcast! This is a little different from Casefile True Crime and Canadian True Crime; for starters, it has more than one person hosting the show, and secondly, episodes averages about 30 minutes. Despite this podcast having more than one host, what I love about this is that the communication between the two hosts is very professional. They don't share their own opinions or speculations on the case, and they speak very well with little to no fillers in their sentences.
What I love most about this podcast is the length of each episode. Capping at ~30 minutes each, I'm able to get the general analysis of the crime, including the outcome. That being said, you're losing out on a lot of the background and history of those involved in the crime, so this podcast is recommended for those who want the nitty-gritty of a crime without the supporting details.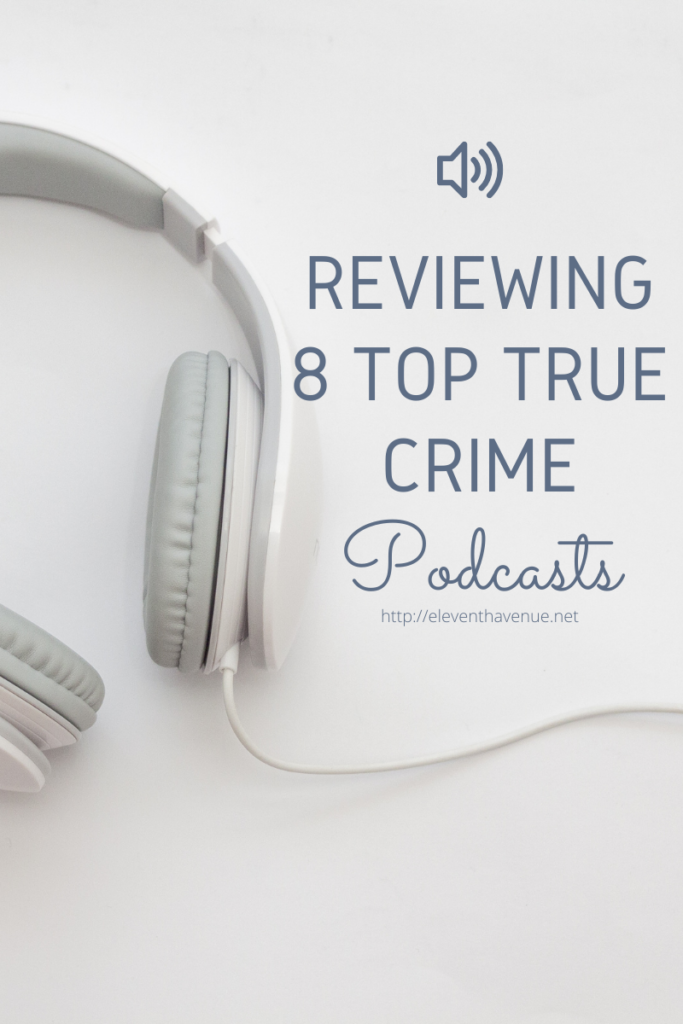 #4 – Someone Knows Something from CBC Podcasts
This podcast came recommended to me by a close friend and after putting it off for nearly a year, I finally gave it a shot. Hosted by David Ridgen, this podcast focuses on cold cases in Canada. Rather than discussing cold cases and their facts, this podcast is more on the journalism investigation side and David speaks with all those involved in said case, track down leads, and searches for new answers or clues in cold cases. It's very well produced, and it's almost as if it's a TV series made into audio. Each episode is grouped into a season and each season focuses on one case.
I've only finished Season 1 and whilst I enjoyed the season, this is a podcast I will only listen to when I've exhausted everything else. I typically try to stay away from season-based podcasts only because I do enjoy learning about new cases every week rather than focusing on one case for several weeks.
#5 – Real Stories Tapes: True Crime from Little Dot Studios
Real Stories is a great documentary channel on YouTube. I binged watched a lot of their documentaries before giving their podcast a shot. This podcast is hosted by Stephanie Bauer and she does an amazing storytelling job of the crime! Out of all the podcasts mentioned here, Real Stories Tapes has a big "Hollywood" dramatic feeling production and several times the music alone has given me goosebumps late at night. Unfortunately, it doesn't seem that this podcast keeps up to date a lot.
#6 – Crime Junkies 
I caved and gave this podcast a try after Google Podcast has been recommending episodes to me. A few episodes in, I decided to give up. As you can probably tell, I'm not too big on podcasts that have a lot of chit chat between two friends and this is exactly one of those podcasts. I've enjoyed it to keep it in my top 5 for now, as the cases are new to me and interesting. However, there's a lot of personal speculations and opinions throughout an episode, and communication is clear but not as polished as some of the other podcasts mentioned. 
#7 – Sword and Scale 
Sword and Scale popped up on my recommendations list several times and I was hooked on for the first few episodes but eventually had to stop listening to this overall.
The host has one of those "announcer" voices that's easy to listen to. It's quite a different and unique podcast compared to the other true crime podcasts. It's produced with very little narrative, and the rest of the episode is filled with media audio files and 3rd party professionals to share their opinions on the case. It's also unique in the sense that Sword and Scale don't focus on just the crime, but it also explores broad topics related to crimes such as gun violence, satanic cult, and the psychological reasons behind these. You definitely learn more about crime in general. Unfortunately, the way it was produced fell short for me – I listened to one episode where it had nearly 10 minutes of audio of a boy crying. I feel media files are edited poorly that it takes up a lot of time in an episode – time that can be spent discussing more the crime, and facts behind the crime. There are several podcasts that use media audio files throughout the episodes that were finely edited to retain the message but for only a minute or two.
#8 – True Crime All the Time and Dark Poutine
Never made it past the first episode for both of these podcasts. Wasn't a fan of the communication.
---
If you have a favourite true-crime podcast, please, please let me know! I am always interested in discovering new true crime podcasts. If you disagree with my opinion and feel I should give the podcast another try, let me know which one!